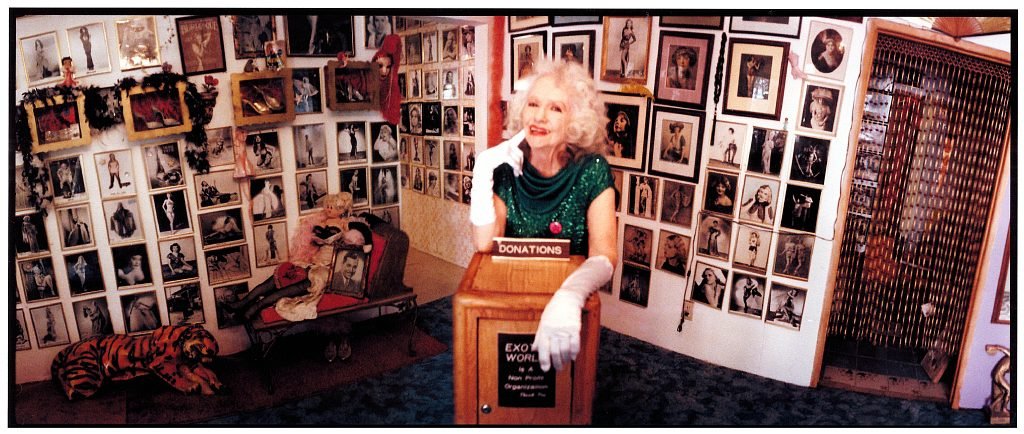 The burlesque world mourned the passing on August 3, 2013, of Dixie Evans, "The Marilyn Monroe of Burlesque", the godmother of the burlesque revival, founder of the Miss Exotic World pageant in 1991, and Exotic World's curator, director, and champion. This page is in her memory. We've asked Dr. Lucky, Dixie's biographer, to tell the story of this beloved burlesque icon, and posted a collection of photos from the museum's collection, including some rarely seen images. But Dixie's story doesn't end with the details of her life, it lives on in the story of every burlesque performer, producer, and fan around the world. Please feel free to extend her story by adding your own remembrances in the comments.
Dixie Evans was known as "The Marilyn Monroe of Burlesque", first for her uncanny resemblance to the sex symbol and then for her frequent incorporation of popular Monroe references and films into her acts. She adopted the tagline after burlesque impresario Harold Minsky pointed out the resemblance upon seeing Dixie perform her famed "Hollywood casting couch" act at his theater. Dixie started imitating the star on stage the very next day. "I didn't think you'd do it so fast," a surprised Mr. Minsky told her backstage. As Dixie explained, "If you don't go over well in burlesque, you don't work. And I had to work. Besides, it was easy for me to fall into that act. I learned to walk and talk just like her. I followed her career move for move. Every time a movie with Marilyn came out, I ran to see it. The next day, I'd start a new act based on what I saw or read about in the papers."
Raised during the Great Depression, Dixie knew the value of work. She was born Mary Lee Evans on August 28, 1926 to Roy Evans and "Annie" LeGrand (née Wrennette) in Long Beach, California. Her father was in the oil business, and her mother was a descendent of Robert Morris and other distinguished French and early American families. "I like to joke that though I'm from aristocracy, I ended up a stripper," Dixie said of her acclaimed lineage. Her father was tragically killed in an accident when she was 7 years old, leaving her mother to raise two children on her own during the Depression.
Dixie started working various jobs in her teens – at a Catholic Hospital, in the celery fields, at an Army base – and at the age of 16, she dropped out of high school. It was about this time that she began taking dance lessons to fulfill her aspirations of becoming a Hollywood starlet. She joined the chorus of The Orchidias de Hollywood, who performed in Mexico, as well as The Moonie Dancers, who toured to Anchorage, Alaska, giving Dixie an exotic introduction to being on the road. During her ingénue career, Dixie modeled and took gigs performing with The Clyde Beatty Circus and as a page in San Francisco, which led to her first gig performing solo at the Spanish Village. Soon, she got booked at the Follies Theater in Los Angeles, where she met manager Lillian Hunt and costume designer Gussie Gross. Later, Lillian would put Dixie's Hollywood act on celluloid in the 1950 burlesque film Too Hot to Handle, and Gussie would make wardrobe for Dixie. "I didn't have money back then to pay for a big, elaborate costume," Dixie said, "so I paid for that first costume inch by inch!"
Dixie performed in burlesque theaters across the country, including the President Follies (SF), Follies Theater (LA), Rialto Theater (Chicago), Minsky's (New Jersey), and many more. "When I started getting into burlesque, theaters were past their hey-day," Dixie explained. "So I started working in clubs more." For the majority of Dixie's career, she traveled around the country as "The Marilyn Monroe of Burlesque", working in burlesque nightclubs, including the Place Pigalle in Miami Beach where she headlined, on and off, for about a decade. She met her future husband, the prize fighter Harry Braelow, at the Place Pigalle, and they wed in 1963. Marilyn Monroe's death on August 5th, 1962 forced Dixie to revamp her act, as imitating the beloved star she so admired felt sacrilegious to her. (By coincidence or fate, Dixie passed away two days shy of the 51st anniversary of Monroe's death.)
Dixie divorced Braelow a few years after they married, and her career took another turn in the mid '60s when she moved to Bimini to manage a hotel. She decided the tiny fishing village needed entertainment, so she worked to open a venue that featured live music and a wild floor show. When she first told the hotel's owners she wanted to put on a show, they were skeptical. "You're going to put a show on the smallest island in the world?" the owner asked, incredulous. Dixie responded: "That's the only way I know how to open up a place!" She booked the show, designed the bar and restaurant, and installed lights so spectacular that the venue could be seen from the small sea plane that brought passengers to the island. She transformed the Bimini Hotel into a destination spot for visitors and locals alike. Even when Dixie retired from show business, she never gave up that entrepreneurial spirit and fastidious creativity which drove her life and career.
It is this tenacious spirit of creativity, scrappy entrepreneurialism, and resolute commitment to putting on a good show that Dixie brought to the Exotic World museum in the '90s and '00s. Exotic World was the realization of Dixie's colleague and friend Jennie Lee's dream to create both a home for retired burlesque performers and a museum to permanently display the wondrous burlesque ephemera she had collected over the years. After Jennie's death from cancer in 1990, Dixie continued to build the museum with the help of Charles Arroyo, Jennie's widower, and a team of workers and volunteers. In 1991, she founded the Miss Exotic World pageant to attract visitors and attention to the fledgling museum. For 25 years, Dixie Evans was the curator of the Exotic World Museum, where she built up its collection, maintained day-to-day operations, and led tours.
At Exotic World, Dixie honed her storytelling skills as she led patrons through the collection, spinning a narrative of burlesque history intertwined with her own experiences in show business. Through her willingness to share and her flair for showmanship, Dixie built a Mecca, turning the dusty goat farm into a destination spot for a whole new generation of performers discovering burlesque. A sign at the Exotic World Museum gate informed patrons to honk three times for a tour, and Dixie would answer in full showgirl hair, makeup and costume, frequently breaking into a spot-on Marilyn Monroe imitation as she narrated the history of burlesque to fascinated patrons. "This is history," Dixie often said about the art form that she dedicated her life to preserving, "and it deserves to be told."
In 2006, Dixie and her collection moved from Helendale to Las Vegas where she turned her home into a mini Exotic World, with costumes and burlesque ephemera displayed throughout, her walls lined with performer publicity shots. The Burlesque Hall of Fame was formed in 2007 to continue Dixie and Jennie's vision of preserving burlesque history. A portion of Dixie's collection can be viewed at the Burlesque Hall of Fame, located at Emergency Arts, at the corner of Fremont & 6th Streets in historic Downtown Las Vegas.
Until her death on August 3rd of 2013, Dixie remained a fundamental advocate for sustaining burlesque history and inspiring its performers. Stars of the neo-burlesque revival have identified Dixie as a major influence on them personally and professionally, earning her the moniker "The Godmother of Burlesque." Dita Von Teese identifies Dixie as the person who helped her create her first burlesque fan dance. Dixie will continue to inspire future generations not only for her commitment to preserving the art form she so loved but for her generosity of spirit. Burlesque will never be the same without her, but it is because of her that so much of its history is remembered.