The Burlesque Hall of Fame's School of Striptease offers burlesque classes for the hobbyist, the novice, and established performers of all levels. Our classes are guided by the principle that "All bodies are burlesque bodies", with a commitment to the comfort and empowerment of our students. Furthermore, we welcome all ages (over 18), ethnicities, body types, levels of physical ability, and levels of personal comfort. Learn the art of burlesque from the industry's top performers of today and yesteryear!
"Burlesque for Beginners was an amazing experience and I'd highly recommend it to anyone wanting to explore the world of burlesque. It was a safe and supportive environment that boosted my confidence and was a ton of fun. I had never done a choreographed dance routine with a group EVER, but I never once felt out of place or in over my head with this class. I felt like I belonged! The sense of community from both the instructors and other performers was amazing!"

Trillie, Student
"Burlesque for Beginners absolutely changed my life! I'm now confident, joyful, and self-accepting, and I want everyone to find their best selves in this amazingly liberating art form

– Noelle, Student
Burlesque Classes
Summer 2023 Schedule
Grounded In Joy with Nona Narcisse
is a five week series that will dive deeper into what can give a performance that "je ne sais quoi"; a potent quality that cannot be described or named easily. There is a unique, joyful edge that only you can bring to the world's stage…and the world needs your gifts, art and enjoyment now more than ever! Learn fun and indulgent choreography to present as a group number at Tease: A Burlesque Revue on Oct 21st at The Space.
---
Unfortunately, this class has sold out! Sign up for our student email list so you can learn about any openings and the schedule for our new classes.
---
---
Private Group Burlesque Classes
Learn the art of burlesque from professional burlesque performers. Contact us to reserve today.
Burlesque 101
This class is geared towards first timers and those wishing to touch up on burlesque basics. Learn a brief history of burlesque and practice classic striptease moves such as working with a boa, glove removal, the "bump & grind" and the shimmy! Gloves and boas provided for use in class.
Cost – $300 (for up to 10 students, plus $35, per each additional student over 10)
Duration – 1 hour
Sally Rand Feather Fan Experience
Learn everything in the "Burlesque 101" class plus lessons on a very popular burlesque gimmick: the feather fan dance! Feather fans will be provided for use in class.
Cost – $400 (for up to 10 students, plus $40, per each additional student over 10)
Duration – 1.5 hour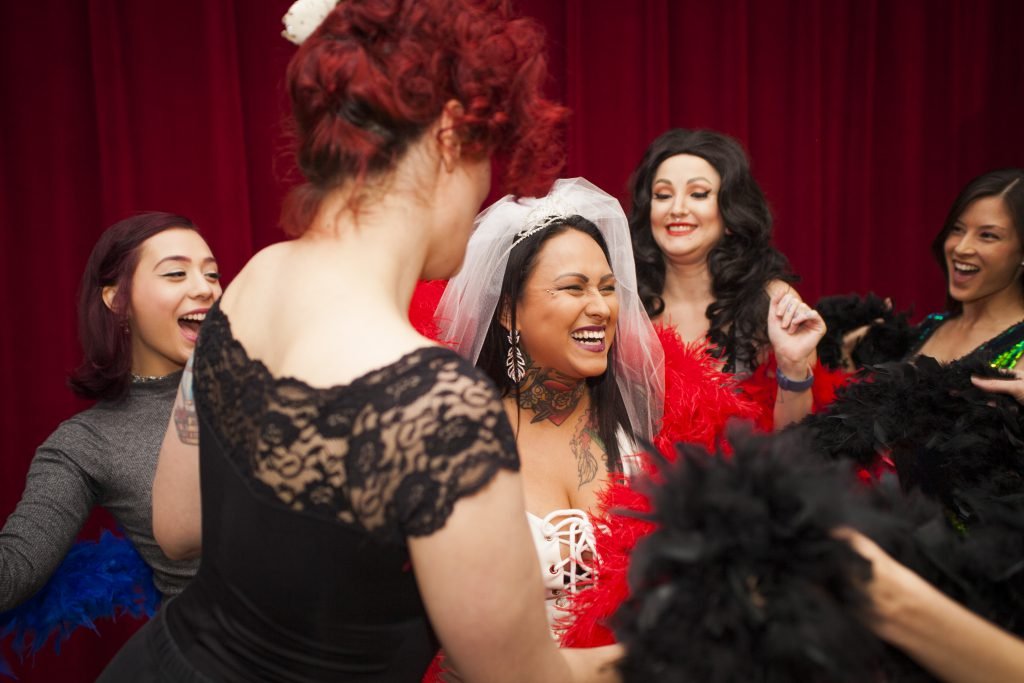 Bachelorette Party
Book a bachelorette or hen party with the Burlesque Hall of Fame. Learn burlesque basics while celebrating you or your loved one's upcoming nuptials! Complimentary gift for the bride or guest of honor. To book a bachelorette party, contact us.
Schedule of Burlesque Classes
We reserve the right to refuse service to anyone. 
---
Meet the Instructor
Darby Fox
Darby has been performing as a stripteaser and emcee on burlesque stages since 2011. Drawing from her studies as a trained historian, Darby integrates the naughty playfulness and comedy, that has historically always been a part of burlesque, into her acts. A native to the City of Sin, Darby is also a model specializing in pin-up, bellydancing, and is a life-long yogi. She has been a pose and performance coach since 2013. Using her years of yoga and modeling experience, Darby breaks down body movements for any mobility level, so that anyone can create beautiful shapes with their body on stage or in front of a camera. Darby is currently the collection assistant at The Burlesque Hall of Fame.
Buttercup
Buttercup is a burlesque performer, instructor, and costumer in Las Vegas, Nevada. She hails from New York City where she studied at The American Academy of Dramatic Arts. Along with her skilled voice and movement, Buttercup incorporates traditional burlesque elements into her routines. Her fan-dance, bump and grind and tassel and assel twirling create unforgettable acts which embody beauty and eroticism with light-hearted flair. Buttercup has been a featured entertainer in burlesque, comedy and variety shows in Las Vegas and across the country. She is currently the Program Coordinator at The Burlesque Hall of Fame.
Nona Narcisse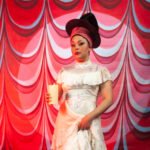 Nona Narcisse has been trained in several different dance modalities, including ballet, modern, belly dance and African dance. She has theatre, clown and mime training from the lauded Celebration Barn Theater. The Barn was founded by Tony Montanaro, a student of Marcel Marceau. She began doing burlesque in New Orleans in 2007, earning her chops performing with some of the best musicians and entertainers in the world. She has worked with such greats as The Cab Calloway Jazz Orchestra, Preservation Hall Jazz Band, George Clinton and Parliament Funkadelic and has been hired to travel as far as The Ascona, Switzerland Jazz Festival to perform. In 2022 Nona performed in The Movers, Shakers and Innovators showcase at the Burlesque Hall of Fame Weekender. She attended Pratt School of Design in NYC, and designs and creates her own costuming. Based in Las Vegas Nevada, she is the proprietrix of Looking Glass Gems, www.lookingglassgems.com ,  specializing in beautiful, affordable rhinestones for creative design. 
La Rosa Muerta
Raised in Las Vegas, La Rosa Muerta started her burlesque career in 2009 when she took home the title of "Miss All Teaze No Sleaze." She studied Fashion Design in Los Angeles where she honed the skills she now utilizes in her costume designing. She has designed and created costumes for herself and other local performers for over a decade. She has taught her trade at BurlyCon as well as the Las Vegas Burlesque Studio. In 2013 La Rosa won best costume at the San Antonio Burlesque Festival, in 2018 she shared the title of, Best in the Fest at the Las Vegas Burlesque festival and she's been featured multiple times in BHoF's quarterly show, Tease: a Burlesque Revue at The Space in Las Vegas from 2019 through now. La Rosa is known for her larger-than-life character work with opulent costumes to match. 
---