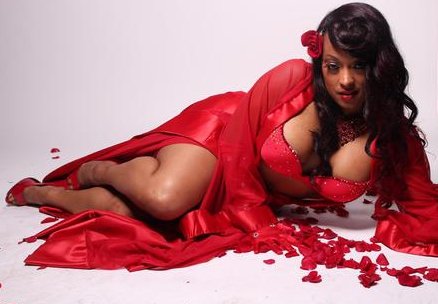 As I sat at work contemplating if I should even write the essay for the Sparkly Devil Memorial Scholarship I remember saying to myself "Why is this scholarship important to you and you have never even met Sparkly Devil in person"? I stared at the computer all day just thinking about that one question. This scholarship meant everything to me because this young lady was out in the communities making a difference, building bridges between burlesque legends and new generation performers, knocking down doors and making space for what was new to come.
I saw myself as a diamond in the rough. Not a performer who lacks manners or style but lacks education of our history. With that said when I was notified as the winner of the 2016 Sparkly Devil Memorial Scholarship, I literally fell back out of my chair. I wanted to call and inbox everyone but I waited until the public announcement. I remember other performers contacting me saying what did you write about? I just said the truth about me, that was all I had.
I was so excited I wanted to know everything about my weekend schedule and who I was going to escort right then. I remember finding creative ways to have a reason to email or DM Dustin Wax (BHoF Executive Director) and/or Tigger! to retrieve pieces of information. Then the emails rolled in and I was always at the edge of my seat preparing to read. I didn't want to miss a beat. The first email came in from Joyce Tang sending information about all of my perks as the Sparkly Devil Memorial Scholarship Winner which included; hotel accommodations, weekend passes, classes, etc.. Next email was from Kitty Baby the Vending Coordinator sending information about the vending areas for the legends. Next email was from Dustin M. Wax sending information about the pre-parties.
Then the email I was waiting for from Tigger! arrived notifying me that I would be escorting the beautiful Trina Parks, who portrayed Thumper, the first African-American James Bond 007 Girl/Villain, appearing with Sean Connery back in 1971 in Diamonds are Forever.
Although she wasn't a Burlesque Legend I felt that it was a blessing for me to be paired with her as an escort. We had so much in common. First of all she majored in Modern Dance at the New York High School of Performing Arts. Trina studied acting with Director Vinette Carroll, performing in Carroll's Broadway show The Prodigal Son. Ms. Parks had the honor of studying with Ms. Katherine Dunham and later joined Ms. Dunham's last professional Dance Company. Additional principal dancing involvement followed with the "Donnie McKayle,""Anna Sokolow", "Tally Beatty," "Geoffrey Holder" and "Eleo Parmare" New York Dance Companies. All of her accomplishments are dear to my heart. I also majored in Modern Dance and had the pleasure of training in New York. I was also trained by many of Ms. Parks' peers, learning the Katherine Dunham technique and African dance, dancing in noted performances that we discussed on our way to the hotel from the airport.
After assisting Trina with her luggage and making sure she was set in her room we parted to get dressed for the "Movers, Shakers and Innovators" showcase. Just as I was ready to head out for the show I received a phone call from Trina, her explaining how she was just too tired after her flight to hang out. I understood.
After the phone call that Trina was too tired to attend the first showcase. I made my way to the showroom and ran into the beautiful Ariel Hel Vetica a performer from the UK that I had the pleasure of meeting when she toured Los Angeles in the beginning of the year.
The next day was the day I was looking forward to classes with Ellion Ness and Trina Parks. After a long night of burlesque shenanigans I jumped up at 9:30am to realize I didn't have stockings for my first class. I began to send messages to my peers asking if anyone had extra stockings. Lo and behold one of my local sister performers Gwen Ruby's boyfriend contacted me saying he was going to the store and he can pick me up a pair. "Oh yes"! I screamed in relief. The Stocking Tease class started with Ellion Ness at 11am and I was sitting in the class panicking because my stockings have not arrived. Gwen handed me one of her stockings and said "We have to peel one leg at a time so we might as well share". I was so grateful although I have thicker legs than her and I knew I was going to stretch that one stocking out but she didn't mind. Right when we were about to get started Gwen's boyfriend ran in and threw me a box of Sheer Energy pantyhose and said "This is all they had." LOL, he tried. Ellion Ness began to give us a little of her bio and the structure of the class. After taking the stocking tease class I knew I had to create a piece using what I learned.
The next class was Black History with Trina Parks. I was very excited about this class because I couldn't wait to see what was in store. Although Trina and I had discussed the curriculum of the class I had a feeling once she got a feeling for what type of students were participating it would change. And that it did. Trina showed videos of great dancers and explained what they contributed to the dance world. After our history lesson it was time to dance. Yesssssssssssssssss!!!! Trina taught the class an African Dance Piece that was very inspiring. Not only did she explain each movement and where it came from but she danced it and then allowed me to lead the dance.
After class we all had to prepare for the 59th Annual Titans of the Tease Showcase. I was very excited about this showcase because you get to experience the glamour of the legends. You get to see them strut their stuff in their fabulous gowns and costumes and enjoy watching pure raw extravagant burlesque entertainment. I greeted Trina in her room and we excitedly went on our way to the Extravaganza.
This is what happens when your waiting for Trina Parks to get ready for a showcase:
Saturday was the big day. It was the last day of classes and the night of the Tournament of Tease Showcase. I was so excited. The first class on the agenda was the Power of Panels with Dee Milo. I really enjoyed this class there was so much to learn about the old ways of sewing panels together versus today. Dee Milo passed around different garments for the students to examine. We were all in awe.
The next class was Dusters: Elegance and Spectacle, taught by Suzette Fontaine. Suzette was a burst of energy. She explained how to move, shake and twirl in your duster. She also taught us about different fabrics, style and lengths of dusters in order to get a good twirl.
After my last class I was off to the Burlesque Bazaar. During the Bazaar I was able to really get acquainted with our Legends and meet up with friends. But you have to be careful because the Tease is real at the Bazaar!
26th Annual Tournament of Tease
Saturday, June 4, 2016
I was so excited about the Tournament of Tease Showcase. This is where the best of the best compete for various titles such as Best Debut, Best Small Group and Best Large Group, Best Boylesque and Queen of Burlesque. Trina Parks was actually judging the Tournament of Tease competition so we agreed to meet by the showroom.
This particular night was very dear to me because Jeez Loueez and Poison Ivory were both competing for Queen and they are very good friends of mine. During the competition I was at the edge of my seat. All of the performers were phenomenal. After a long fierce competition it was time to announce the Queen. The newly crowned Queen of Burlesque is "Poison Ivory"!! I literally jumped out of my seat and ran screaming up and down the aisle.
There were so many emotions that came over me during her crowning. When Poison Ivory turned my way and screamed, "Sister we did it," I fell to my knees and cried "Yes we did!" So many thoughts raced through my head. Not only did an African American win the Sparkly Devil Scholarship but we were included in the Movers, Shakers and Innovators Showcase, there were two of us competing for queen and what a glorious night WE won.
After the Tournament of Tease showcase it was time to get dressed for the after party. The color of the night was yellow so we all decided to change and meet back in the lobby for photos.
Rounding out my weekend the next day I attended and assisted Trina Parks at her table to sign photos and to network with the burlesque legends. It was a very memorable day. So much love and I mean SO much love.
The remainder of my weekend was spent by enjoying the after parties, assisting Trina Parks, talking to our legends and catching up with friends. This experience has been the most humbling ever. I have learned so much, not only about history but about the now and about myself. I hope that the up-and-coming burlesque communities go out there and educate themselves on where burlesque came from and where it's going.
I encourage my successor to embrace the Burlesque Hall of Fame Weekender. Take in as much as you possibly can. Soak up the knowledge and the education that is presented to you. Encourage your peers to become a member of BHoF in order to make sure this platform keeps moving forward. I encourage you all to pick up a pen and a piece of paper and get started on your essay to become the next Sparkly Devil Scholarship Recipient.
Thank you to the Burlesque Hall of Fame staff for this amazing opportunity. I am grateful to have experienced such an honor. Thank you to all of the volunteers and committees that help make this a successful event and learning tool.
I want to thank the lovely Tonii Elling for keeping me on my toes and making sure I knew my history as a performer of color.
And thank you to Trina Parks for being open to the art of burlesque and taking this journey with me. Not only did I take home knowledge but I also gained a new God Mother who I have become a personal assistant to. Thank you BHoF.
Diamonds are "FOREVER",
Love,
Egypt Blaque Knyle
More photos
[portfolio_slideshow size=large showcaps=true]
The BHoF Finishing School is a BurlyPod produced and operated by our partners at BurlyCon. For more information about BurlyPods, visit burlypod.com