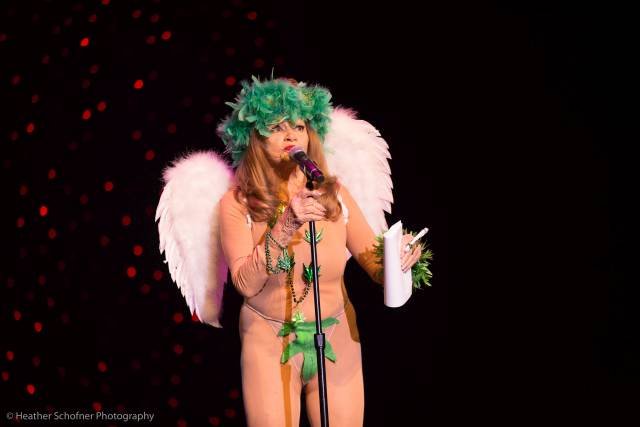 It is with great pleasure that we announce this year's recipient of the BHoF Living Legend Award: the Fairy Kush Mother herself, Bambi Jones! The Living Legend Award recognizes performers who created distinguished careers for themselves during the heyday of burlesque and who continue to distinguish themselves through their involvement with today's burlesque community.
Born into a Jewish family in Holyoke, MA, in 1931, Bambi Jones started dancing almost as soon as she could walk. "I was just a born entertainer," she says. "As a child, I danced in factories for penny tips, entertaining the workers during the war." By the late 1940s, she was flirting with pinup modelling and dancing burlesque under her legal name, Dolores Rozelle. Known for her lyrical dance style, she was billed as the "Mona Lisa Girl" and then the "Panther Girl" due to her cat-like sensuality.
Changing her stage name to Bambi Jones in 1953, Bambi hit the national circuits, eventually landing alongside "The Cat Girl", Lilli Christine, at Leon Prima's 500 Club in New Orleans. Bambi was more than just another bump and grinder, though – her acts incorporated a great deal of physical and verbal comedy. "With comedy you bring the house down," she told Neil Kendall in a 2021 interview, "and you win the women over too because they identify far more with you if you are funny."
When not working in nightclubs, Bambi spent her summers working carnival girl shows (see our online exhibition Bump & Grind Beneath the Big Top for a glimpse at burlesque in the world of carnivals, circuses, and fairs). For many years, she headlined shows like World of Mirth, where she appeared as the Aqua Queen inside a giant water tank.
Bambi retired from burlesque in 1977, working as a massage therapist and for a stint delivering singing telegrams as a gorilla. In 1983 she began working as a manager for her daughter Grace, a headliner in her own right, before stepping back into the "burlesque closet" in 1990 when she married a socially prominent pharmacist.
In the late 1990s, she reconnected with the burlesque world via Dixie Evans and Exotic World and has been active in the community ever since. In 205 she wrote her often-hilarious memoirs, My Journey: Burlesque As It Was. Today Bambi Jones remains a tour de force in the burlesque world, where she is known as the "Fairy Kush Mother" for her ongoing support for legalized cannabis. At age 90, she insists on "growing old disgracefully" and is an active participant at burlesque festivals.
She summed up her interview with Neil Kendall by sharing with him her secret for a long life: "Don't ever lose your sense of humor." The Living Legend award will be presented to Bambi Jones at a show in her hometown of Las Vegas and broadcast live during this year's Virtual Weekender, August 6-8. For more information about the Living Legend Award and its previous recipients, visit the Living Legends page on the BHoF Weekender website.
(Thank you to Neil Kendall for his assistance with this post.)