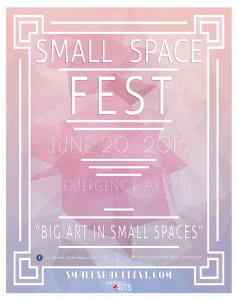 BHoF will be open special hours this Monday, June 20, from 6pm-10pm, as part of the opening festivities for the Small Space Fest.
Small Space Fest is taking over the Emergency Arts Building and filling it with unique, site-specific art from both local and national artists. These works will be installed all over the building including cabinets, bathrooms, ceilings, elevators, hallways, broom closets, mop sinks, windows, small rooms, and more!
BHoF will be putting on special burlesque performances both in the museum space and throughout the building.
Tickets for opening night are "Pay What You Can" (suggested ticket price: $20). Proceeds from ticket sales will go directly to the performing artists.
For more info about the event, go to www.smallspacefest.com