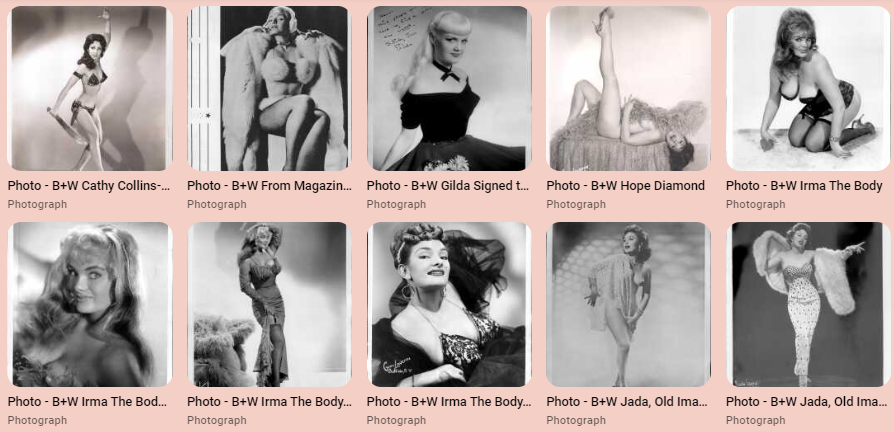 The Burlesque Hall of Fame is being targeted by a right-wing watchdog group. Earlier this week (Dec 13, 2022), a group called Open the Books contacted us regarding the $32,000 in ARP funding we had received from the Institute of Museum and Library Services for digitizing and cataloguing our collection. In the past year, this funding has allowed us to add just shy of 1500 pieces to our catalog with accompanying high-resolution scans and photos, and to share a selection of this material online. (View our online database here!)
It is this online database that Open the Books were asking about. In their words, "Among the new online database of museum objects are photos of topless and almost-completely-naked women posing. Should taxpayer dollars be spent on a project like this that posts naked photos online? What does the museum say to people who find it objective to use taxpayer funds for this?"
Their questions, we were told, were for an article they were working on "about federal grants that organizations in Las Vegas have received", about which they would be doing an interview with local Las Vegas news on December 14. This would prove to be misdirection on their part, as we shall see, but at the moment, we took them at their word and gave them an honest response.
The Burlesque Hall of Fame preserves an important part of American entertainment and popular culture history. For nearly a century, burlesque was one of the most popular forms of entertainment in the United States, one that provided opportunities for a wide range of mostly working class people to build careers, express themselves artistically, and travel the world – especially women and persons of color who were otherwise excluded from participating in wide swaths of public activity. Burlesque history is history and deserves to be told.
We received a grant to digitize and catalog a large chunk of our collection of thousands of photos, costumes, posters, printed material, stage props, and personal effects, and secondarily to develop strategies for making this part of our shared American heritage available to a wider audience. Over the course of the grant, we were able to digitize and catalog nearly 1500 pieces, including a pilot project to digitize select pieces of 8mm and 16mm film, with an eye towards securing funding to digitize our whole collection of well over 100 short and feature-length midcentury films. We also made a part of our collection available online.
Most of the photographic material in our collection was created as promotional material intended to meet mid-20th century standards for newspaper ads and public display. Hardly any of the material in our collection qualifies as "topless", and very little would appeal to any 21st century prurient interest. By and large, the material we make available would look pretty tame next to, say, a Sports Illustrated Swimsuit Issue, or even a Maxim.
That said, however one views the work in our collection, this material remains a part of our shared heritage. Tens of millions of Americans went to burlesque shows, and performers rubbed elbows with the movie stars, literary icons, prominent industrialists, foreign dignitaries, and political leaders including US presidents. Burlesque performers entertained US troops in USO shows around the world. How we think about gender, sexuality, class, and power have been deeply shaped by burlesque. The mission of the IMLS and other agencies that support American arts and humanities organizations is to help us preserve this shared heritage for today's Americans and for future generations, and the grant we received has helped us to do just that.
As mentioned, it turns out their original request was not in good faith. An article about the grant, dated December 12, 2022, had already been issued and has been published on a variety of sites, syndicated through RealClearWire.com. The original version of that article can be found at https://realclearwire.com/articles/2022/12/12/federal_grant_funds_soft-core_porn__naked_women_pics_from_burlesque_hall_of_fame_869445.html
The article is full of mistakes, from calling anything we post "soft-core porn" (which our material definitively is not) to listing the title of one of our permanent exhibits as our "slogan". We are especially amused by the portrayal of photographs of pasties and underwear as "risqué". Since it was published before they even asked us for comment, it is clear that factual accuracy is not their concern, nor that anyone intended to be influenced in any way by the statement they asked us to provide.
Because it is important to us that knee-jerk reactions like this – against nudity, partial nudity, or even clothes that are small – do not act as barriers preventing people from being able to learn about burlesque's unique history and place in modern culture, we are going to remove topless and fully nude images from our online database of collection material. This makes up a tiny percentage of our shared material – as noted above, most of our collection was created with much tamer mid-20th century standards in mind – but we recognize that full nudity may be an issue for some viewers, particularly the young. It will still be available in our collection, of course.
We are deeply disappointed with the lack of honesty displayed by Open the Books (an organization that claims to be all about "transparency") and with their lack of interest in our shared American heritage, as evidenced by branding our funding a "waste" of federal dollars. This whole affair is proof, if it was ever needed, that the work we do is crucial and needs to continue, so that nobody questions the value of preserving such a vital piece of our shared history again.