You may know ballet for its grace and poise, but in this class you'll learn to harness its secret strength which is all in your pelvic floor.
Learn to dance from your "naughty" bits, and bring that balletic power to burlesque.
Instructor, Charlie Quinn Starling trained in Musical Theatre in London, before deciding she was far too rebellious to stay in a chorus line and preferred to make a splash in the London club scene. She sang, danced and stripped her way across the globe before heading to Vegas under the guidance of her Bubble Mama and hero, Miss Exotic World Julie Atlas Muz. You can now find her in Absinthe at Caesars Palace, as well as on many other stages in Vegas and beyond.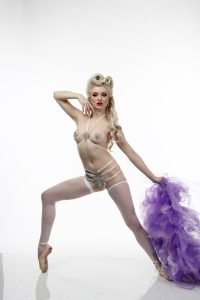 The Burlesque Hall of Fame's School of Striptease offers classes for the hobbyist, the novice, and established performers of all kinds. Learn about the art of the striptease from the industry's top performers of today and yesteryear!
Classes take place inside The Burlesque Hall of Fame's Bawdy Shop Studio every Wednesday from 6:30pm-7:30pm. Full class schedule available at bhof.link/schoolofstriptease
$40 per class
$30 for members
$35 pre-register online: BHOF.link/schoolofstriptease